Book Review: White Rabbit's Color Book
9:16:00 PM
Front Cover of White Rabbit's Color Book
I dropped by the Booksale shop at Leon Guinto Street Cor. Pedro Gil after the vesper service at Grace Bible Church. It was almost 8PM when I arrived there and the shop was about to close. I went to the children's book section to look for cheap story books. One of the story books that I bought was "White Rabbit's Color Book" by Alan Baker. It was an educational story book teaching its readers regarding the correct primary color combination to produce different secondary colors.
The cute white bunny before dipping to the buckets of paint
Basically the story was a about a white rabbit who saw three buckets of paint, blue, yellow and red. Out of curiosity the bunny tried to dip his body to the bucket of paint. The bunny was amazed because he produced different colors by mixing different paints. First the bunny dipped his body to yellow paint and to red paint. He produced an orange color and bunny was so happy. The bunny washed his body and tried different combinations until he produced the color violet by mixing blue and red and also green by mixing blue and yellow. Finally, the bunny tried mixing all of the three primary colors and he produced brown color which for the bunny was right for his skin because brown is warm and lovely.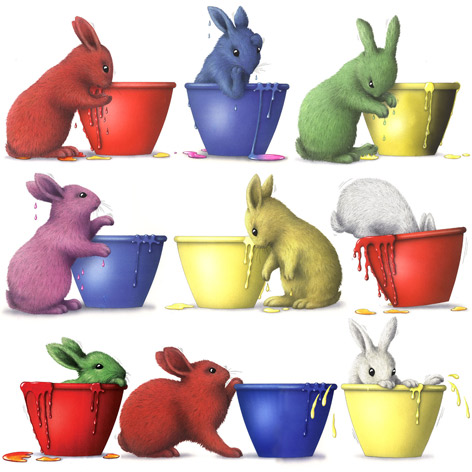 Curious bunny dipping into different paints
Source: http://arts.brighton.ac.uk/faculty-of-arts-brighton/alumni-and-associates/associates-and-alumni/graphic/alan-baker

The bunny's curiosity led him to the discovery of different colors that can be made by mixing the different primary colors. I hope all of the kids who will get the chance to read this book will be encouraged to always be curious about things. Always ask questions. I remember Dr. Mojgan Sami, an urban planner from University of California Irvine whom I met during the Global Health Forum 2015, said to me and other MD-PhD scholars "This concept of investigation of truth, put it in your heart. Constantly ask question". We always need to investigate, find the truth and discover a lot of things in our surrounding. Never be a passive being. Life is so boring when you always accept all information given to you. Learn to question things and verify their authenticity. Do not always go with the flow. Always remember that only dead fishes go with the flow of water.
I like this book. I bought this for only 20 pesos. This was the first foreign children's book that I wrote a review. In all fairness, Filipino books are at par with most of the international children's book that I have read. Some of Filipino children's stories were even better than most of the international books. Kudos to all Filipino writers for all their contributions in our Filipino children's literature.